About me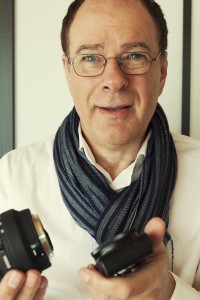 All my professional life has ever since been influenced by my passion photography,
I started with marketing  studies and worked as a management consultant until 1985.
In 1986 I discovered my creative side and began with photography and montage as a creative designer. In these very early days of computing age I created my first montages with computer graphics and image processing. Some of these early artworks were displayed in exhibitions.
It was one of these unexpected moments which made me expand to a professional graphic designer.
A 10 year excursion as a marketing promoter in artist management began in 1996. At the same time I kicked off one of the very first music online magazines where I am the editor of still today.
I could work off my passion in both of these areas and this had a great influence on my further work.
I am a passionate people photographer. I like to show a person´s insight.  And when the perfect moment is around I catch it with my camera, that true expression with magic impression. Not every shooting has that perfect moment, but those who do deliver the result I love to show in my pictures.
Of course I also do commercial and such other stuff.. but my heart is with these very personal and intimate artworks.
No Comment
12. November 2014
Seiten
Portfolio
Ralf Eyertt Photography
Vielen Dank für den Besuch auf meiner Seite!